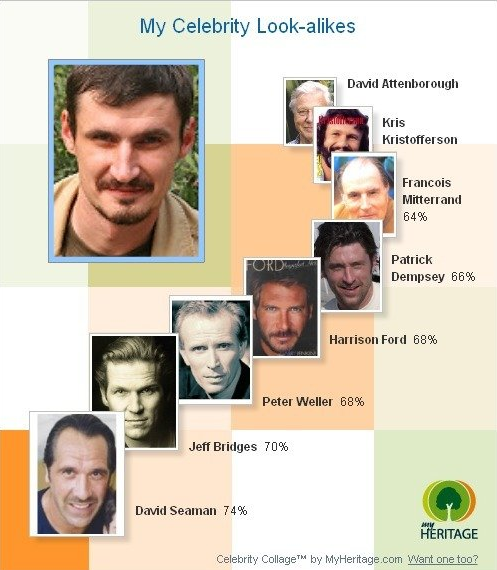 I was a bit bored the other day, just browsing the internet looking for something fun to do. And I came across a few things I would like to share. So here they are:
At MyHeritage using the face recognition technology you can upload a picture of you and see who of the celebrities looks like you. You'll find out the exact percentage of similarity and will be given a choice of presenting it as a collage or as a morphing like the one of me you see below. Apparently Harrison Ford looks like me! And also you can download a free family tree builder from here. It looks like a very nice program, cheers for that!
At dotomator there is a very handy tool called web 2.0 domain name generator in case you decided you starting a new web 2.0 project but stuck with the ideas for a name. Apart from the fact that it looks very web 2.0, it also generates pretty cool names: Twizu, Flashwire, Shuffledog (I like this one, but the dotcom is taken already), Dynabox, Plazio, Twidel, Wikinyx, Kayva, Youware, Zooyo, Flipspot, Kiba, Plambo, Podtube, Ooboo, Bubbleopia, Snapspan, Tagdrive, Feedtype, Linkpoint.
If you're found by the stupidity of the current American president there's a a site for you – The Complete Bushisms, they say it's just the president's accidental wit and wisdom. It seems that some americans are not found of him either and rumors are there's a village in Texas that is missing an idiot. The bushism is not something new, and there are even daily bushism on some sites. If you're an american don't get upset, you just got a stupid president (well it is your fault, after all you chosen him). But on the bright side, you're not the only one. Take our prime-minister for example, Vasilica Tarlev – he can compete with Bush in stupidity! And many other nations have their Bush, it's just yours getting broadcasted all over the world.
DeGraeve.com – Steven DeGraeve's project is where you'll find some funny games and tools like the image to text transformer (the ASCII art), the hangman game, use the invent-a-word tool or find out your biorhythms and many more.
And finally I would like to present you the on-line game that kept my attention for a few days in a raw now – Second Life! It is a virtual world in which some real life people moved to live their second life and where some things you cannot get in real life are accessible for everyone. I haven't played any computer games for years now, but this one is a bit different. It is an amazing game, I will not say anything more, but I will try to make an article about Second Life soon.
P.S.: And as an add on to the virtual world from Second Life you'll probably need a special dictionary to understand some things if you're used to plain English – Urban Dictionary. That will make you understand some computer and slang abbreviations like: lol, rofl, n00b, omfg, brb, etc.