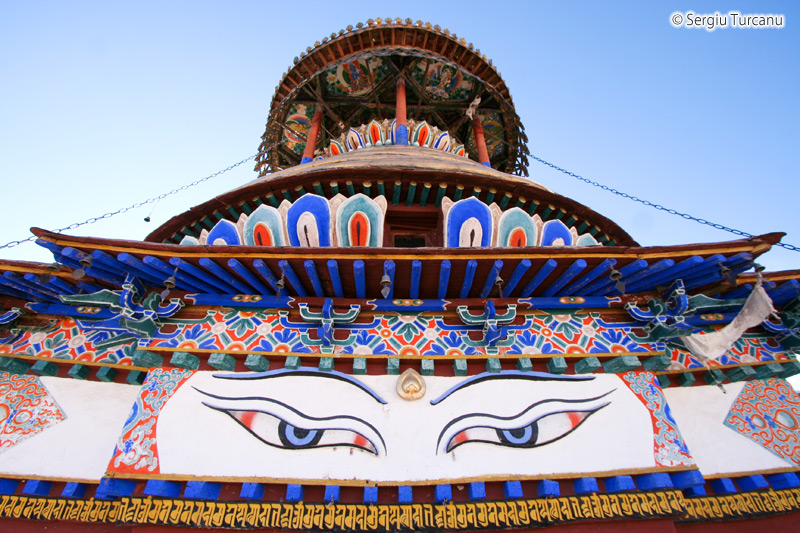 Palkor Monastery (sometimes referred to as Palcho, or Palchoi Monastery) was built in 1418 by the first Panchen Kezhugyi and took 10 years to complete. It is located on the outskirts of Gyantse and accommodates four different Buddhist sects: Gelug, Gagyu, Sagya and Nyingma, which is rare in Tibet. Each sect has its own praying hall, while the main hall houses the bronze statue of Sakyamuni, which is about eight meters high and weighs about 14,000 kilograms. On the flanks of the main hall are Arhat Halls that house some 100 finely crafted arhat statues with different facial expressions.
The monastery is best known for it's enormous pagoda, better known as "Bodhi Stupa", or "Kumbum" in Tibetan. The 9 story pagoda is 42,4 meters high, has 76 halls with 108 doors and hosts about 3,000 statues and some 100,000 images of Buddha. This is why the pagoda is often called "One Hundred-Thousand-Buddha Tower". These images include Buddhas, Bodhisattvas, Vajras, Dharma Kings, Arhats, great adepts of different orders in Tibetan Buddhist history, and outstanding figures in Tibetan history such as Songtsen Gampo and Trisong Detsen.
All photographs are copyrighted. If you want to use any of them please find them on Alamy to buy the license and download high resolution images. If you intend to use them for non-commercial purposes or can provide something in return please contact me directly.
PHOTOGRAPHS COPYRIGHTED © by Sergiu Turcanu