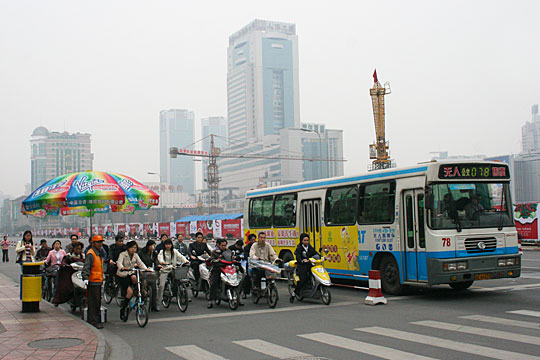 According to US Geological Survey an earthquake with a magnitude of 7.8 struck Sichuan province today, centered 92 km northwest of Chengdu. Apparently it was felt all over China. Reports say people felt it as far away as Beijing and Shanghai, especially by the office workers located in the skyscrapers.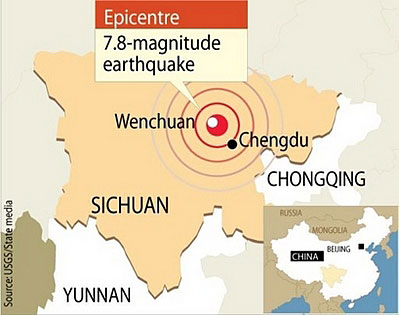 A mate of mine called me to ask if I felt the earthquake, but I didn't sense anything (I'm in Beijing right now). Apparently here in Beijing a lot of people felt it and poured outside. The only news on Chinese TV about the earthquake was minutes ago in the news bulletin on CCTV9, they reported about the earthquake recorded at 2:28 PM, but no damages or casualties reported yet. It surprises me (well not that much) how a news like that is handled by the media – no reports yet, after 1,5 hours!
The tremor was actually felt in Vietnam and Thailand as well! High rising buildings in Bangkok were continuing to sway for seven minutes. Some reports say it was also felt in Taiwan and Pakistan.
UPDATE: Another news bulletin on CCTV did not get anything except a small statement about the earthquake being reported and that there are no official reports yet coming from Xinhua news agency. I just checked the agency's web-site and that's the story they have:
BEIJING, May 12 (Xinhua) — A major earthquake measuring 7.8 on the Richter scale jolted Wenchuan County of southwest China's Sichuan Province at 2:28 p.m. Monday, the State Seismological Bureau said, revising a previous figure of 7.6.
The epicenter of the quake was located 31.0 degrees north latitude and 103.4 degrees east longitude, the bureau said.

With a population of 111,800, Wenchuan lies in southeast part of the Tibetan-Qiang Autonomous Prefecture of Aba, 146 km to the northwest of Chengdu, provincial capital of Sichuan.
Xinhua reporters in many other parts of China also reported tremors. Reporters in Chengdu said they saw cracks on walls of some residential buildings in the downtown areas, but no building collapsed.
The telecom networks in Chengdu and Chongqing cities broken down for a while after the quake. People complained they were unable to have phone calls on the fixed line or the mobile.
Here is the link to the full story.

UPDATE II: Actually another minor quake was recorded in Beijing, measuring 3.9 on the Richter scale and jolted the Tongzhou District at 2:35 p.m. It was a triggered tremor from the one in Wenchuan County. Also there's a rumor circulating among Beijinger's that an aftershock measuring between two and six on the Richter scale would take place in Beijing between 10 p.m and midnight. But officials from State Seismological Bureau reassured it's not true and stated: "No destructive earthquake near the capital is likely to occur in the near future". 5 victims reported dead and hundreds injured in Sichuan and Chongqing.

UPDATE III: The earthquake was upgraded to a 7.9 magnitude from a 7.8 magnitude. Five major aftershocks ranging in magnitude from 4.0 to 6.0 were recorded within two hours of the main tremor. Death toll rises to more then 10.000 and continues to grow. No news still from the epicenter and communications still remains cut. Rescue workers are trying to get to the remote towns where victims are still hoped to be found under ruins. In Benchuan County 80% of buildings are reported destroyed. Unlike 32 years ago when the major earthquake hit Tangshan and Chinese authorities refused to admit for months it happened (only after three years the death toll was announced – 240.000), this time reports, pictures and video's from eyewitness's spread over the internet.
An article on wikipedia has been set-up already called 2008 Sichuan earthquake and latest news and information about the quake can be found at SichuanEarthquake.org, both created within 24 hours after the event.