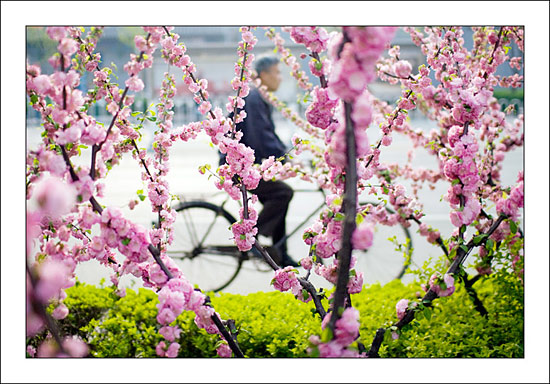 For other a month now, even more actually, since the end of the Chinese New Year I've been wasting my time in Beijing. Yeah, back in China!
This post is not about me and what I am doing here, but about the spring time. After the month of March with weather changing from warm to cold and vice versa, we finally get the true spring time. Oh, by the way, a friend of mine from Japan told me, they call this type of weather ä¸?å¯?å??温 -ã??san kan shi on, literally meaning "three cold four warm" and referring to three cold days followed by four warm and so on.
Beijing is actually looking very nice during spring with all the trees in blossom and if you get lucky to see a cloudless day – even better! If you have time I would strongly advise you to forget about everything and head to the nearest park. There's one thing I really like in Beijing and this is parks – clean and amazingly well arranged. Feng-shui masters must have worked well before designing all these parks, I mean, when entering one of these hundred years old parks you feel GOOD! And I've been to one yesterday myself, the Ritan park, they say it's one of the oldest in Beijing – had a great time!
Enjoy your spring – wherever you are in the Northern Hemisphere!