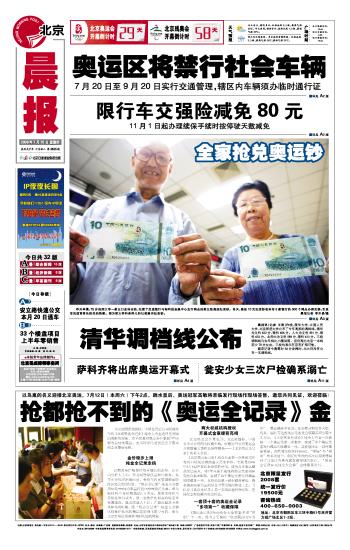 News I Pick
New 10 RMB banknote to commemorate the 2008 Beijing Olympics
Exactly one month before the start of the Beijing Olympic Games the People's Bank of China issues a commemorative 10 RMB bill. It features the newly built already iconic image of the National Stadium known as the Bird's Nest on the front and the ancient Greek statue of a discus thrower "Discobolus" on the back.
Since the commemorative banknote was issued in only 6 million copies it seems that the whole country rushed since morning to Bank of China branches to get their own copy because of a one banknote per customer policy. Immediately after the sale much higher prices for the 10 yuan Chinese banknote were reported, soaring as high as 1000 RMB per banknote! I personally heard of banknotes being sold forty times the initial price at 400 yuan, but I still think it's too much. It's probably just the initial rush, but I might be wrong of course. 6,000,000 banknotes for 1,321,851,888 people (2007 est.) makes about 1 banknote per every 220 people… seems enough!
But what all the western media sees is that the banknote is missing Mao! For the first time a modern Chinese banknote does not have the portrait of Chairman Mao Zedong. I wouldn't make such a big deal of it actually, because Mao might be dominating the banknotes now, but only since 1999, so it wasn't for such a long time and his portrait still gazes the Tian An Men square and his statues overlook the main squares in most of the cities. However, from what I found out, there have been attempts before to get rid of Mao from the banknotes or at least introduce some other leaders like Deng Xiaoping (main economic reformer) and Sun Yat-sen ("father" of modern China). Only time will show.
Some source affirmed that it's for the first time that a commemorative banknote for the Olympics have been issued. I found it hard to believe, but who knows. Will have to check that.