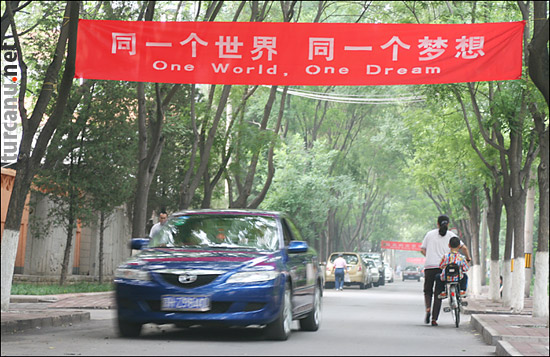 Beijing is getting ready for the 2008 Olympics and the atmosphere of the Olympic Games approaching is everywhere. Even in my quiet neighborhood now you can see the red banners welcoming the games. It is quite funny actually, because they also translated the banners into English in an attempt to share the moment with laowai's also, but as usual it sounds Chinglish.
I've made a few pictures of the banners from my neighborhood in Heping Xi Qiao, but I've also seen similar red banners in many other places all over Beijing. The most used is of course the olympic slogan: "One world – One Dream", but there are also various other slogans like: "Greet The Olympic Games Display Ethical Cultural Progress Foster Healthy Tendencies" (which is the usual non-sense translation to English). Or other recorded titles like: "Foster Beijing's Image of Propriety and Righteousness Showcase The Culture Of The Olympic Games" and "Have A Part In Devote Oneself Feel Happy". Among the understandable titles are: "Play The Host – Build New Beijing" (they did build a lot) or "Smiling Beijing Welcomes You" (which is probably the simplest and understandable one).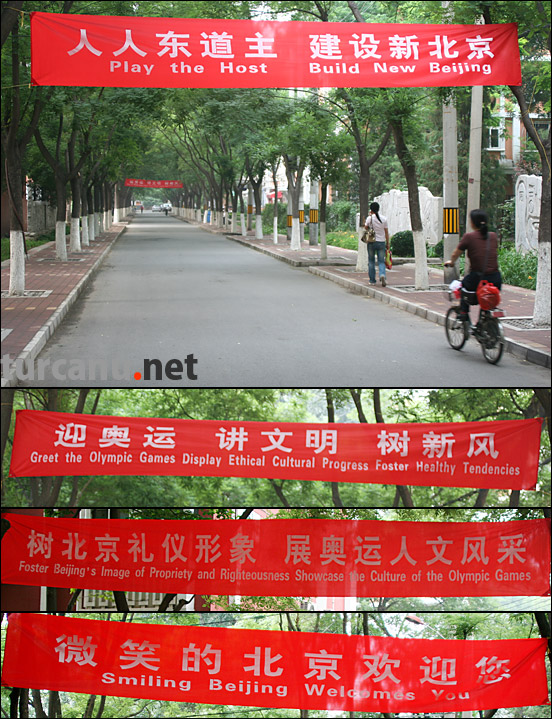 It all might be funny to us, but people feel part of it and it works well for China. That reminds me of my childhood in USSR when we also used to prepare the same type of red banners for various holidays and events, I have a kind of nostalgic feeling about it. Well, if you notice any other funny Olympic slogans you're more then welcomed to post them here in the comments!