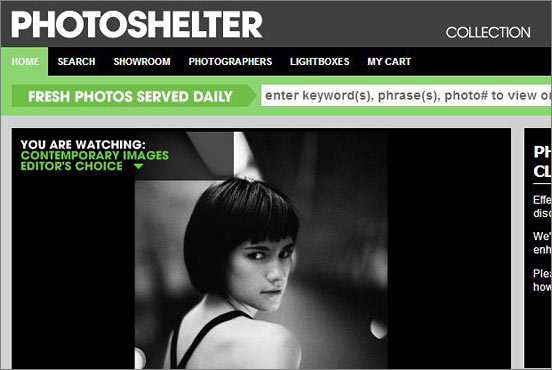 Photography
The day I found out the PhotoShelter Collection died
I just received an email today signed by Allen Murabayashi (CEO at PhotoShelter Collection) with a shocking news for me: the PhotoShelter Collection is closing!
That is something I wasn't expecting happening and I had the impression things are developing well and PhotoShelter Collection (PSC) is changing the market of the photostock industry. I'm very sad to see them go and I just cannot comprehend why they decided to shut down only after one year after launching, but I guess they were conducting some researches like they always do.
In the letter Allen says:
"However, our approach was insufficient to change buyer behavior on a grand scale and generate revenues quickly enough to satisfy our goals for this product line. While image buyers worldwide appreciated our new approach, the size of our image selection and the incumbent player's entrenched subscription relationships were a persistent challenge. As a result, we saw few strategic options for the Collection that would allow us to stay true to our commitment to a better deal for photographers and our desire to change the industry."
It was difficult decision for them, but I appreciate the effort they've done and I hope this is just the beginning of changes in the photostocks market, and sometimes you need to fail first in order to succeed. They tried to show more respect to fellow photographers and it was an agency that knew how to listen trying to create a truly pleasant experience for both contributors and buyers.
The PhotoShelter blog published a list of reason for their failure among which the fact that it's a slow growing market dominated by Getty Images and that a crowd-source model for stock will likely never work. There's also a list of FAQ regarding the decision to close where you can find all the technical details like last business day and when each service is scheduled to stop as well as financial questions. The Personal Archive at Photoshelter will remain available and you're welcome to use it. Although they did not made any agreements with other agencies they recommend submitting to Alamy being the closest agency to the PSC model.
The only thing I'm asking is: Did they really did everything they could? One year is not that much time to establish things, esspecialy when it comes to a stock collection. You've done the researches, you had the resources, you had the investors – why can't you give a second chance and try to work it out instead of burying it alive? Will running the collection for let's say one more year will cost that much? Even if your investors turned away and let you down when you most need them (which I think might be one of the reasons) things can still be changed! I only wish you could share this with us earlier and ask our advice.
It's quite strange that despite the fact that PSC de facto let us down everybody including myself is acting like loosing a close friend. I'm gonna miss the fresh photos served daily. As somebody mentioned in the PSC forum for fellow photographers: Thomas Edison said to his critics that he didn't fail 10,000 times to make a light bulb, but that he successfully identified 10,000 ways of how not to. We live and learn!
P.S.: I decided I'll quote a few things the photographers are saying in the forum, since it will be shut down tomorrow:
Mark Emmerson from Oakville, Ontario, Canada
"My condolences and thanks to PSC for offering a refreshing change to the stock photo world. Their fairness, collegial and genuinely helpful policies and attitude have been in stark contrast to the greed-driven, autocratic and dismissive profiles of others in the industry. Lacking substantive information about the original business plan, its projections and targets, and ignorant of the level of capitalization set up for the launch, marketing and everything else that goes into a venture such as this, I can neither vindicate the administration nor condemn it."
Craig Bender from Amsterdam, Netherlands
"Yes, I feel the love too and the forums are great but how about the fact that we've all put a significant amount of time into this and very few have been compensated with sales…
…Our time and our images have value and that has just been flushed by PS…
…Their thinking is that we'll all either walk away with our tail between our legs or sign up for the soon to be improved Personal Archive service…
…I have a lot of respect for the photographers and management here but I think that shutting this down after only 12 months is short sighted and quite frankly chicken shit…"
Michael Oberman from Columbia, MD
"Putting time and energy into a losing enterprise…the number of hours wasted multiplied by the number of photographers who fell for the PS (or should I say BS) line. Why on earth would we want to stay in your archives. I've gotten more work and contacts through flickr than I believe I would ever get through what will be left of your site. Au revoir."
Ei Katsumata, San Francisco, CA
"Maybe things would be better if PSC went to bed with Getty when they had the chance…
…I can't say that I'm pissed about it — more like disappointed. And definitely annoyed that I spent a dozen valuable hours this past week tagonomyzing a few hundred images."
Thornton Cohen, New York, Burkina Faso
"Wow, lotta experts here. Why dont you guys get together and start a stock agency? Seriously, i mean theres a lot of talking the talk, i have been veteran for 25 years kinda stuff. I mean you dont want dump all that knowledge into a zimmer frame now do you."
Michael Brown, Cayce, SC
"Well guys, … at least you did not hold back anything and you gave it your best shot.
For that, I will always give you a "thumbs up"!"
Amy Strycula, Pittsburgh, PA
"I'm probably speaking for a lot of photographers when I say that this really kills the sense of inspiration and motivation to shoot photos that I've had since joining Photoshelter. And to top it off I just spent $500 to send a bunch of slides and negs to be scanned from my celebrity archives, based on the encouragement I received from a Photoshelter staffer of their interest in building a celebrity collection."
Matt Gragg, Kailua-Kona, HI
"Y'know I posted messages for months asking the the company to at least inform us in a rudimentary way how the enterprise was going (i.e.), monthly sales figures. I did so because, with all the time and effort spent editing and supplying work, I wanted to get a basic understanding of my return on investment…
The other reality of this situation is that I've been competing with tens of thousands of other photographers on this site (trying to sell rights-managed). Some but not all of the work that PSC accepted (in my estimation) was sub-standard (especially for rights-managed). That type of photography is better suited for royalty-free (like istockphoto)…"
Ryan McGinnis, Lincoln, NE
"I know PSC went into the stock photography market fairly ignorantly and with an "up-your-own-butt-NYC-art" taste for imagery, but I really did think they had enough capital to fly the agency for at least two or three years until they knew what the hell they were doing. How they thought they were going to hammer their way into such an established marketplace in a year is beyond me. It's pure hubris."
David Hill, San Jose, CA
"I just can't grasp why PSC would end on operation on September 11, very insensitive to peoples feelings on this Day of Remembrance to September 11, 2001"
Paul Kamphuis, Hoevelaken, Netherlands
"I think Allen will tell you that it needs cash to keep this thing rolling.
I do agree that the Collection was a great idea. But the truth is, if revenues are not good enough, better stop early, instead of continuing till its too late."
Cate Franklyn, East Elmhurst, NY
"I've learned so much about stock photography on PSC and this forum and enjoyed the camaraderie immensely. Thank you all and I wish everyone the best of luck. Stop by my website sometime I'd love to hear from you."
Timothy Doubrava, Riverhead, NY
"This really sucks! and to announce this on Sept. 11th is really short sighted just as their faith in thier own concept seems to be. Looks like the bean counters won this round. Damn shame, I had a lot of hope for photoshelter but my intuition let me down this time."
Richard Pearson Jr., Erie, PA
"I am stunned, heartbroken…this is the first place since I started shooting where I really felt accepted as a photographer. There is so much negativity everywhere else, this was a breath of fesh air"
Lori Carey, San Juan Capistrano, CA
"I'm heartbroken. Even though I've only been here a few months and have mostly been a lurker, I've learned so much from the knowledgeable community here in such a short time. It really was starting to feel like "home". Thank you all, and I wish everyone the best of luck in the future."
Mardis Coers, Carmichael, CA
"The figure that comes to my mind is $129,000. According to the info posted on Alamy's website, this is the amount of their GROSS sales in their first year of business. I find it hard to believe that PSC wasn't on track to have a gross sales figure of $129,000 for their first year in business.

Alamy's most recent sales figure after their sixth or seventh year in business was $29,000,000 (USD). If PSC was in fact on track to exceed sales of $129,000 in their first year, why not hang in there like Alamy did?"
Neil Juggins, London, United Kingdom
"To Allen and Grover, Thank you for your posts and for you and your staff's hard work.
The feeling of anger and resentment are a natural reaction to this news. I for one am angry about the time I've spent working on the site. I absolutely staggered by the fact that you can't raise enough funds to continue this venture. I'm sure a venture capitalist would have taken a punt on this. You have global reach with this product, you have photographers from all around the world dedicating their time and effort to make it work and you obviously have/had the passion to make it succeed. Alamy's takings in it first year of operation were approx £ 130,000. They are now turning over £ 26,000,000. a year. Why oh why did you not give it longer ?"
David Barrett, Gloucestershire, United Kingdom
"It appears to me as if the collection was only a Trojan horse that was meant to sell
storage to us photographers, after all that is the core business here and re-inventing the wheel takes a bit more effort, energy and cash!
…
Despite the failure here I believe that this model may have worked in the long term,
but 12 months is either naive or hugely optimistic."
Responses from Allen and Grover then followed:
"Yes, this is worthy of an angry reaction – and I'm actually happy to see the anger because it means that you felt something for the product. I do think we were on the right track, and our sales were actually quite good — but not good *enough*.

We raised a $4.2 million Series A round of venture funding about 2 years ago. This money was used to build the PhotoShelter Collection. Our growth plans included the need for a Series B round after about a year and a half of operation in order to take us into the next phase, but in order to raise a Series B, certain metrics needed to be hit – chief among them, sales figures.

Are we guilty of being irresponsibly short-sighted? You might think so, but I don't. We knew that we'd need additional funding to keep growing the product, and we also knew that additional funding was not guaranteed. So we work as hard as we can, do as much as we can, remain as optimistic as possible, and hope for the best.
…
The Personal Archive is our bread-and-butter. Thousands of photographers depend on it as their archive. By closing down the PSC, we're not only protecting the PA, but finally able to greatly improve and expand it.

Although this is unfortunate news, and we all realize that a lot of people put a lot of time into uploading, captioning, keywording, and showing support for what the PSC stood for. But I am also proud of our team for being able to make this difficult business decision."