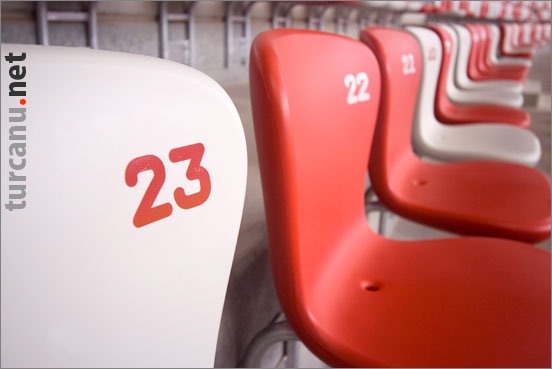 China
Plan and seats of the Olympic Stadium in Beijing
I wrote a review about the Olympic Stadium in Beijing some time ago and noticed that people also find this article when looking for the Beijing Olympic Stadium plan or trying to get a look at the Olympic Stadium seats. Since there's no actual plan of the stadium presented in my previous review and there were just pictures of the VIP seats I decided to write another article and show you what you're looking for.

These are the seats from Herzog & de Meuron's iconic creation in Beijing, red and white colored with respectively white and red big numbers written in the upper right corner of every seat. There are significantly more red chairs on the first level and the white seats appear to be placed aleatory. There are more white seats on the second floor, but still red is the dominant color. And the third level is composed of mostly white chairs already. The seats are very comfortable made of some kind of plastic polymer and every seats has a hole underneath, I'll let you imagine yourself what is it for!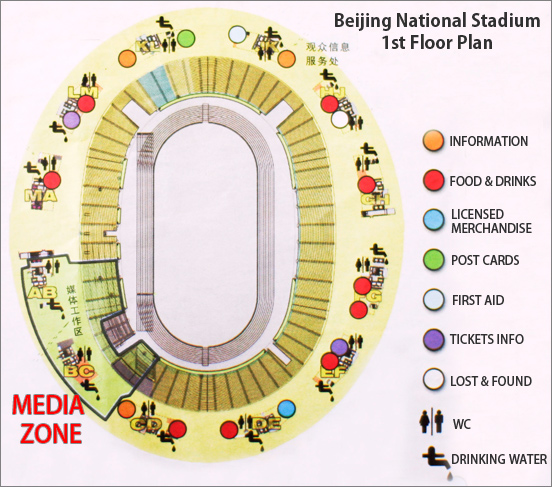 The Olympic Stadium has three levels or floors as you probably noticed with the biggest one being first two and the third being a smaller addition. There are 12 public entrances to the stadium each marked with a letter (from A to M). The stadium has large public spaces inside and it is very easy to get anywhere you want. There are also aisles numbers assigned for each entrance letter, from 101 to 156 on first floor and 201 to 256 respectively. The seat numbers are easy to spot and another thing that I liked is that when getting to your aisle you will not have to wonder which side to take as both sides will be your aisle, but divided into two by seat numbers (e.g.: till 10 and after 10). No need to worry if you get lost, there are volunteer assistants willing to help at every aisle, so just ask.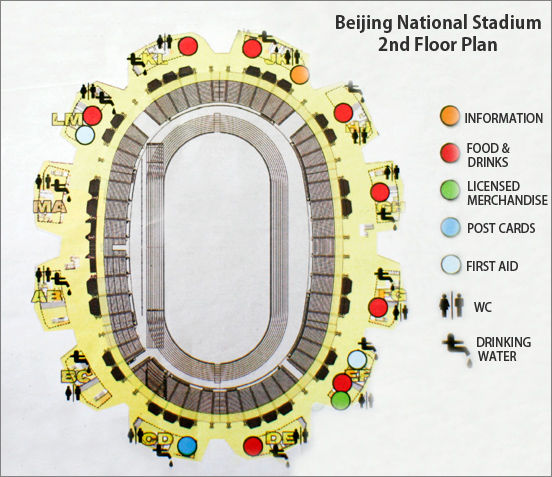 The South-Western part of the first level is taken entirely by the media, while inside the stadium you'll notice these gray boxes where reporters will be located, these are sectors B and A,C partially. This is a restricted area and only media staff will be allowed to get there, there are special arranged spaces there and all the facilities needed. Every stadium's sector has it's restrooms and drinking water facility. You'll have to check the stadium's plan to locate Food & Drink selling outlets, Official Merchandise Shops for licensed souvenirs and Information Booths. You'll also find First Aid and Post Cards outlets (from where you can actually send the postcard) on each floor. And there's just on e Lost & Found office and two tickets information offices on the first level as you may notice. But please note, that this information is what I've seen and there might be changes, so double-check it when you're there.
Here are a few more views from the stadium and plans for first and second floors of the Beijing National Olympic Stadium:

P.S.: My advice to you – instead of drinking water try the Yanjing Beer which will be available for sale inside the stadium at the Yanjing booths and Food & Snacks sections. This is one of the best beers I tasted and is one of the official sponsors of the Beijing Olympics.