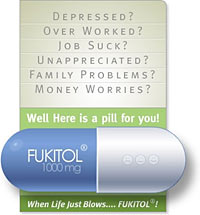 For all of you out there who spend most of their time in the office. Here are a few things to cheer you up on Monday. Some nice quotes for the start:
Making mistakes is human, but it's against our company's policy. (Anonymous)
Our company's dressing code: always cover your back. (Anonymous)
A memorandum is written not to inform the reader but to protect the writer. (Dean Acheson)
Tell your boss everything you think about him and the truth will set you free. (Anonymous)
Leisure time is that five or six hours when you sleep at night. (George Allen)
Less important you are in the company's structure, more they will miss you when you'll be out of office. (Bill Vaughan)
Adults are always asking little kids what they want to be when they grow up because they're looking for ideas. (Paula Poundstone)
The one that smiles when the things went wrong already found someone to blame. (Arthur Bloch)
I've noticed that the persons that arrive late in the office are more cheerful than the ones waiting for them (E.V.Lucas)
WHAT THOSE WORDS REALLY MEAN:
1. OUTGOING PERSONALITY – Always going out of the office
2. GREAT PRESENTATION SKILLS – Able to bullshit
3. GOOD COMMUNICATION SKILLS – Spends lots of time on phone
4. WORK IS FIRST PRIORITY – Too ugly to get a date
5. ACTIVE SOCIALLY – Drinks a lot
6. INDEPENDENT WORKER – Nobody knows what he/she does
7. QUICK THINKER – Offers plausible excuses
8. CAREFUL THINKER – Won't make a decision
9. USES LOGIC ON DIFFICULT JOB – Gets someone elde to do it
10. EXPRESSES THEMSELVES WELL – Speaks English
11. KEEN SENSE OF HUMOUR – Knows a lot of dirty jokes
12. METICULOUS ATTENTION TO DETAIL – A nit picker
13. HAS LEADERSHIP QUALITES – Is tall or has louder voice
14. EXCEPTIONALLY GOOD JUDGEMENT – Lucky
15. OF GREAT VALUE TO THE ORGANISATION – Gets to work on time
16. CAREER MINDED – Back Stabber
17. LOYAL – can't get a job anywhere else
18. PLANS FOR PROMOTION/ADVANCEMENT – Buys drinks for all the boys
19. RELAXED ATTITUDE – Sleeps at desk
And last but not least here is a news for you. Try and read the following story:

ACRDOINCG TO AN EGNSLIH UVNITERISY SDTUY,
IT IS OF NO IPMROTNACE IN WCIHH OERDR
LTTEERS IN A WROD ARE PSOTIIOEND.
THE OLNY TNHIG TAHT IS IPMRONAT IS TAHT
THE FRSIT AND LSAT LTTEER ARE IN THE RGHIT PSOTOIIN.
TIHS IS BCAEUSE WE DO NOT RAED WRODS LTTEER BY LTTEER,
BUT CPLOMTEE WRODS.