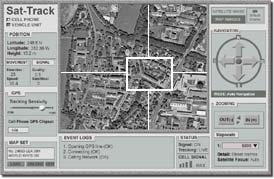 Funny Bits
GPS Tracking – now you can spy on others!
The dynamic development of modern technologies is not a surprise for anyone these days and things we regarded in the past as almost science-fiction or thought to be "technologies of the future" are quickly becoming parts of our everyday lives. One of this relatively new hi-tech things is GPS. For the ones of you who don't know yet exactly what it is I'll do a bit of explanation. GPS or Global Positioning System (which is pretty much explanatory) is a system through which certain special enabled devices can be located exactly through satellite system.

I'm sure you've heard all that before, and a few of you even used it or saw GPS devices in use in the cars. So you all know how powerful and exact that technology is. The thing about GPS system is that it is intended for public use, so anyone can get access to it for free (we use different providers who enable the access for us). There are a few global systems at the moment which are supported by governments and are operational or just planned: NAVSTAR (US), Beidou/KOMPASS (China), Glonass (Russia & India), QZSS (Japan), Galileo (EU + other countries).
But the beauty of the new system I just discovered on the internet is that you are able to track and localize the mobile / cell phones by simply providing the phone number! Remember movies about spies? You've got a chance now to use this technology free of charge. I don't know for how long it will still be available on-line and available for free, but it is sure a lot of fun to track you and others through their mobiles.
Just try it – GPS Tracking.